U

pfit

™

Series Aluminum Van Storage Package 108" Wide (Driver) & 60" Wide (Passenger) #UP10860-02
$4,125.00
Our Upfit™ Series aluminum van package, UP10860-02, is 108" x 60" wide with storage shelves for custom van interior organization in commercial vans.
| | |
| --- | --- |
| Dimensions | 108"W & 60"W |
| Product SKU | UP10860-02 |
| Variations | Color |
Available colors:


White


Red


Moduline Blue
Package includes:

One (#UP631548) 48″ Shelf Unit with (4) Shelf Dividers
One (#UPBB48S) 48″ Blue Organization Bins for Small Parts
Two (#UPBB48A) 48″ Blue Organization Bins for Assorted Parts
Two (#UP631560) 60″ Shelf Unit with (12) Shelf Dividers
Two (#UPBB60S) 60″ Blue Organization Bins for Small Parts
Four (#UPBB60A) 60″ Blue Organization Bins for Assorted Parts
Assembly Hardware

Package recommended for these vehicles:

Ford Transit, 148" Wheel Base
Mercedes Sprinter, 144" Wheel Base
Three fixed shelves plus a top pan provide maximum rigidity.
Includes (4) aluminum shelf dividers per shelf.
Mix & Match modules and accessories fit any shelf for unlimited combinations
Made from high-alloy aluminum with high gloss finish.
Anodized aluminum frames with #4 brushed finish
Lightweight aluminum keeps the weight down to reduce GVW.
Angled back to accommodate the most popular cargo vans.
QuikDraw® patented single-action latch system
Keep your items safely stowed in transit.
Lift anywhere along with the handle with just a finger to unlatch.
The mechanism doesn't sacrifice any drawer space.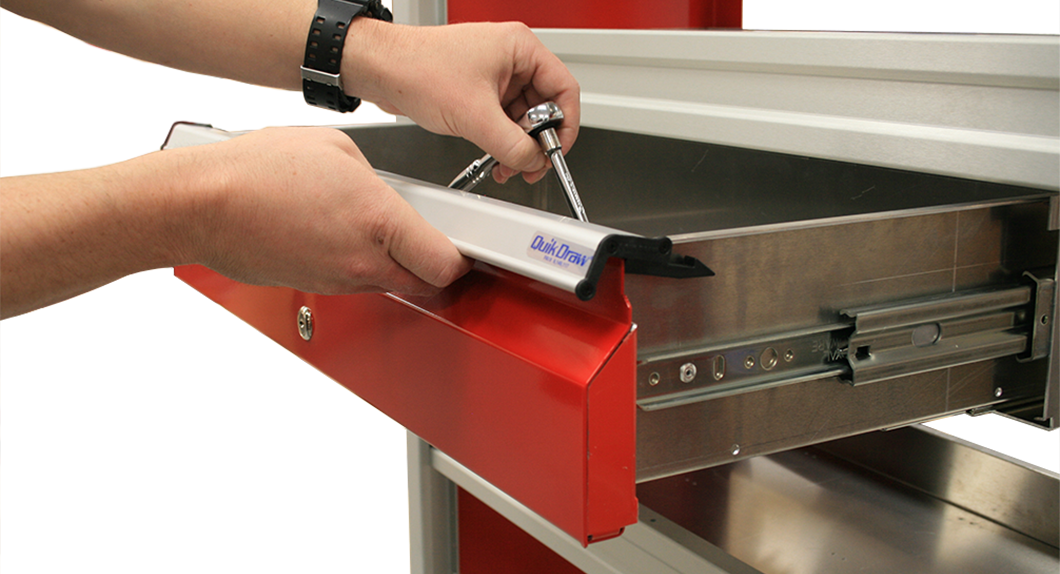 Lockable doors and drawers for additional security.
Doors are double-walled and have full-length aluminum hinge for rigidity.
Low-profile, textured chrome trigger latches keep doors securely closed.
Minimal assembly required

Are You Ready To Get Started?
We have a team of customer service experts ready to assist you today!