Sportsman II™ Trailer and Vehicle Combinations
Sportsman II™ Trailer and Vehicle Combinations
S

portsman

II

™

Trailer and Vehicle Combinations & Cabinets
The following pages show our most popular combinations of Sportsman II™ trailer and vehicle cabinets. They are shown for ease of ordering and to illustrate how our modular cabinets can be used together. Please keep in mind that these are examples. Also see below separate component cabinets that can be mixed and matched and purchased to meet your needs.
S

portsman

II

™

Trailer and Vehicle Combinations

Moduline makes it easy for you to outfit your trailer or vehicle with lightweight, military-grade aluminum cabinets. No matter what type of trailer or specialty vehicle you have, these pre-configured Moduline Sportsman II™ cabinet combinations are the perfect solution for your storage needs.
All drawers featureSingle Action Latch System (Pat #9,149,117)

Cabinets are made from military-grade aluminum with high gloss finish.

Solid 1/8″ Aluminum Countertop, with back and side splash guards.

Overhead Cabinets include lift up doors with gas springs for ease of use.

V-Nose Conversion Kits

Easy Ship Program

Drawer and Overhead Cabinets (Fully Assembled)

Base Cabinets and Closets (Minimal assembly required)

Modular Design for Unlimited Combinations

Available in Red or White, with Light Gray Frames

Lifetime Warranty

Lightweight aluminum keeps the weight down to reduce GVW.

Overhead Cabinet top, bottom, sides and front frames are Light Gray high gloss finish to accent main color.

Easy to install with common tools.

Doors available with either left-hand or right-hand swing on Base Cabinets and Closets.

Doors are double wall construction, with inner-hat-bracing for maximum strength and rigidity. Doors are manufactured using .063″ thick high alloy aluminum outside and .040″ thick high alloy aluminum on inner panels. Full length continuous aluminum hinges provide complete support to the door structure.

Open bottom front frame on Base Cabinets and Closets for ease of sliding heavy objects in and out.

Fully adjustable Shelf System on Base Cabinets and Closets allows shelves to be adjusted in 2-1/4″ increments, accommodates Adjustable Shelves or Pull-out-shelves.

Adjustable Shelf included with all Closets and Base Cabinets.

CAD and CNC assure precision cabinets providing a perfect fit.

Highly resistant to mold, mildew, corrosion, discoloration and fingerprints.

Will not attract dust and will not cause static shock unlike plastic or resin.

Completely hypoallergenic: Moduline Aluminum Storage Cabinets are constructed from materials that minimize the possibility of allergic response.

Low profile trigger latches keep doors securely closed and have a textured chrome finish that looks great. Latches are spring loaded providing a built in handle when unlatched.


All Closets include pole kit.
Standard Color Options
Red
White
Actual Colors May Vary From Website.
Adjustable Pull-Out Shelves
Countertops available in stainless steel, butcher block or aluminum.
Moduline Extreme Liner™
Non-slip, PVC-coated polyester holds tools in place
Solid material (not mesh) black in color
20.8″ wide X 1/8″ thick
The 20.8″ width fits a drawer in a 24″ deep Moduline Tool Box or Drawer Unit
Protects tools from scratching and marring
Works on any drawers or shelves
Easy to trim for a perfect fit
Works great on shelves to cushion fragile items
Optional Power Grid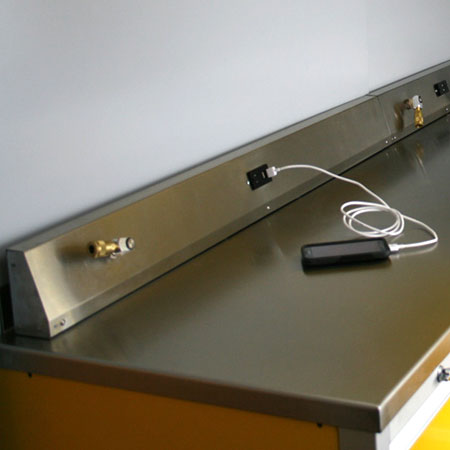 A perfect and convenient way to incorporate electrical, air and USB into your cabinet system
Beautiful brushed stainless steel finish goes well with any of our bench top materials
Power grid system has pre-punched access holes for easy wiring from the wall
Available in three different lengths that can be combined to fit your counter length
End caps create a clean finished appearance
ARE You Ready to Get Started?
We have a team of customer service experts ready to assist you today!