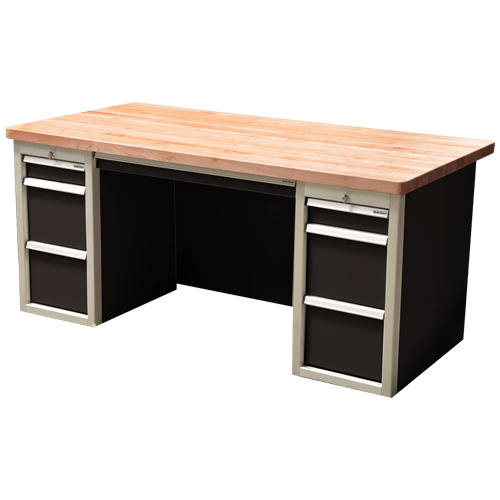 P

ro

II

™

SERIES Garage Desk Cabinet Featuring QuikDraw® Single Action Latch System
High-Alloy Aluminum
QuikDraw® Latch System
Anodized Frame
Full-Extension Slides
Plastic Drawer Bins
Aluminum Drawer Dividers
1.75" Bally Butcher Block
.125" Aluminum Top
Lifetime Warranty
STANDARD COLORS







Actual Colors May Vary From Website.
Modular and easy to install. Moduline aluminum garage storage cabinets are completely assembled modular units and install easily with simple tools. With the modular design, unlimited combinations can be created from our standard sizes. Custom sizes also available.

Front frames are clear anodized and sealed aluminum for good looks and durability.

Extra rigid integrated aluminum frames with double reinforced corners and precision hardware (no welds to crack).

Integrated top bracing provides maximum strength and the ability to mount a vice on the countertop.

Adjustable shelf system allows shelves to be adjusted in 2-1/4″ increments from top to bottom. (shelves sold separately, choose from Adjustable Shelves or Adjustable Pull-Out-Shelves)

Manufactured from premium high alloy aluminum with baked enamel finish.

Doors are double wall construction, with inner-hat-bracing for maximum strength and rigidity. Doors are manufactured using .063″ thick premium aluminum outside and .040″ thick premium aluminum on inner panels. Full length continuous aluminum hinges provide complete support to the door structure.

Single door cabinets available with either left-hand or right-hand swing

CAD and CNC assure precision cabinets providing a perfect fit.

Stainless Steel, Aluminum and Butcher Block Tops available.

File storage drawers, wide center drawer and back included with Executive Desk with Butcher Block Desk.

Highly resistant to mold, mildew, corrosion, discoloration and fingerprints.

Will not attract dust and will not cause static shock unlike plastic or resin.

Completely hypoallergenic: Moduline Aluminum Garage Storage Cabinets are constructed from materials that minimize the possibility of allergic response.

Low profile trigger latches keep doors securely closed and have a textured chrome finish that looks great. Latches are spring loaded providing a built in handle when unlatched. Latch guards protect mechanism on inside of door. (locking latches available)

Lifetime Warranty
Height

Depth

Width

Top Material

Part Number

31.75″

36″

70.5″

Butcher Block

31.753670.5

30″

36″

69″

Aluminum

303669AL

30″

24″

64″

Aluminum

302464DK

Other Sizes Available
Executive Desk available with Butcher Block Top
Aluminum Desk available with Aluminum Top
Optional Security Thumb Lock and Latch Mechanism, Locks All Drawers
Moduline Extreme Liner™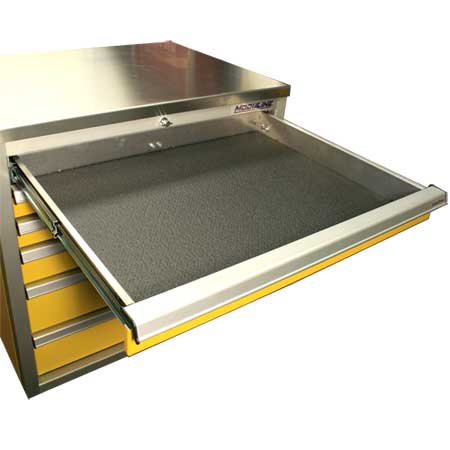 Non-slip, PVC-coated polyester holds tools in place
Solid material (not mesh) black in color
20.8″ wide x 1/8″ thick
The 20.8″ width fits in a 24″ deep Moduline Drawer
Protects tools from scratching and marring
Works on any drawers or shelves
Easy to trim for a perfect fit
Works great on shelves to cushion fragile items
ARE You Ready to Get Started?
We have a team of customer service experts ready to assist you today!