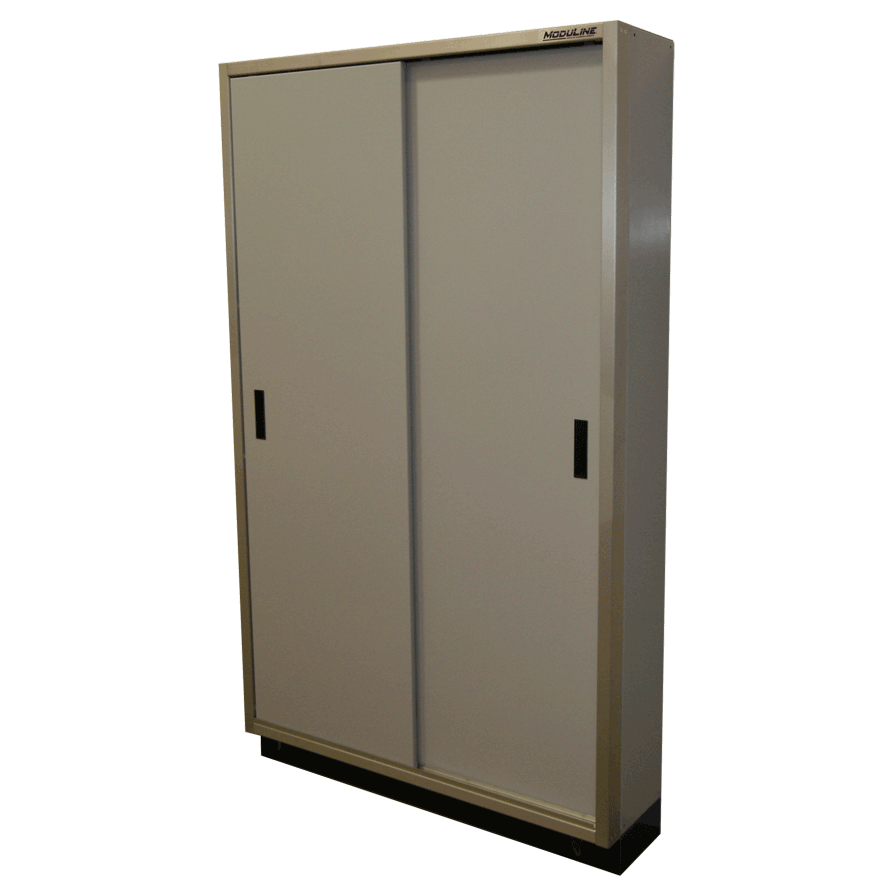 P

ro

II

™

SERIES Garage Aluminum Space Saver Sliding Door Cabinets
High-Alloy Aluminum
Adjustable Toe Kick
Anodized Frame
Recessed Handles
Heavy-Duty Roller Slides
Felt Lined Guides
Adjustable Shelves
Modular Design
Lifetime Warranty
STANDARD COLORS







Actual Colors May Vary From Website.
Adjustable Toe Kick optional feature supports entire cabinet and allows for easy leveling on uneven floors.

Modular and easy to install. Moduline aluminum garage storage cabinets are completely assembled modular units and install easily with simple tools. With the modular design, unlimited combinations can be created from our standard sizes. Custom sizes also available.

Front frames are clear anodized and sealed aluminum for good looks and durability.

Extra rigid integrated aluminum frames with double reinforced corners and precision hardware (no welds to crack).

Adjustable shelf system allows shelves to be adjusted in 2-1/4″ increments from top to bottom.

One adjustable shelf included with every space saver sliding door cabinet.

Manufactured from premium high-alloy aluminum with baked enamel finish.

Doors are double wall construction, with inner-hat-bracing for maximum strength and rigidity. Doors are manufactured using .063″ thick premium aluminum outside and .040″ thick premium aluminum on inner panels.

Great storage space for rakes, shovels, brooms, weed whackers, etc. on the side walls of garages

Recessed handle and heavy duty roller slides for smooth operation.

Felt lined guides for smooth and quiet operation

Perfect way to add storage cabinets on side of garages and still open doors when vehicles are parked.

Easily mount on top of stem walls to make use of otherwise wasted space

CAD and CNC assure precision cabinets providing a perfect fit.

Highly resistant to mold, mildew, corrosion, discoloration and fingerprints.

Will not attract dust and will not cause static shock unlike plastic or resin.

Completely hypoallergenic: Moduline Aluminum Garage Storage Cabinets are constructed from materials that minimize the possibility of allergic response.

Lifetime Warranty
| | | | | |
| --- | --- | --- | --- | --- |
| Height | Depth | Width | | Doors |
| 59″ | 11.5″ | 48″ | | 2 |
| 59″ | 15.5″ | 48″ | | 2 |
| 75″ | 11.5″ | 48″ | | 2 |
| 75″ | 15.5″ | 48″ | | 2 |
Optional cabinet backs not required but available
ARE You Ready to Get Started?
We have a team of customer service experts ready to assist you today!